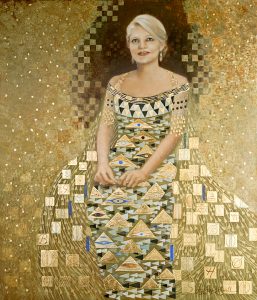 The Request for an Homage to "Woman in Gold"
A newly married art collector inquired at my website. He wanted to celebrate and share his elation with a special piece of art. Inspired, he wanted to show his love for his bride in the style of the iconic Abstract Expressionist painting, known as "Woman in Gold," that Gustav Klimt had created just over a century ago. He told me about the enjoyment he received from his art collection. Included in it were artworks of present-day relatives of historically famous artists. My relation to Norman Rockwell drew him to me. Then he respected my work in its own right.
Realistic Painter Targets Abstract
In accepting this commission, I anticipated a fair amount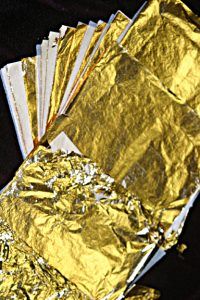 of research and experimentation. It was a fascination for me. Laying gold leaf, for example, has its own tech that has to be done just right. But what a great effect! Also, in this glittering abstract, I found myself painting out different flat patterns of small but different shapes only to get another idea which required letting the oil paint dry and then repainting all of them. Soon I got the bright idea to paint my designs with acrylic paint on a clear acetate overlay. I could cut, recreate portions and move them around somewhat efficiently. Once I decided exactly what to do and where, I could then create my designs in oil on my canvas.
Contrast this with how I paint my realistic portraits. I usually thinly sketch large compositional elements (such as a figure, shadows, foliage, horizon) making them flexible and able to accept over-sketching easily. Once established it is a gradual adding process of more and more detail to achieve realism and excitement.
On the other hand, I was now experiencing the growth of an abstract painted portrait through re-construction. Again, very interesting—the mind procedure of tacking new visual challenges.
The Story of the Original "Woman in Gold"
You might remember that major movie in 2015 about this illustrious painting. Here's the background:
Gustav Klimt (1862-1918) was an Austrian Expressionistic artist known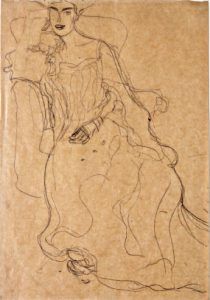 for his bohemian lifestyle. He spent most of his time with his art and never married. (However, as the story goes, he fathered 14 children.) It took him 4 years to complete the original "Woman in Gold"—from 1903-07. To begin with, he made over 100 sketches of his subject, Adele Block-Bauer (1881-1925), whose wealthy husband, Ferdinand (1864-1946), commissioned him to paint his young wife. When completed, it went on exhibition a few times and then hung in the Block-Bauer household. In 1912, Mr. Block-Bauer commissioned Klimt to do a second portrait of his wife.
All was well, so to speak, as Gustav Klimt enjoyed 6 more years of fame in his lifetime until his death in 1918. Adele lived until 1925. At first Ferdinand put the two Klimt portraits into her room which he dedicated as a shrine to her. From there he also lent it to a few exibitions.
The next big event was the Nazi seizure of Jewish art collections and lands, including those of our successful Viennese merchant, Ferdinand Block-Bauer, in 1938. After that, he moved around, just out of reach of the Nazis for the next 8 years until his death in 1946 at the age of 82.
The Return of the Stolen Painting
Maria Altman, the niece of the painting's subject, Adele Block-Bauer, hired lawyers in the late 1990s.  They initiated suits to retrieve their Nazi-confiscated artworks to her family. Court battles for 8 years brought tremendous attention to the painting. The press were thrilled to have the opportunity to exhume historic scandals surrounding the painting from the beginning, particularly concerning Gustav Klimt. This notoriety also spawned a few films and books, even a play.
At last the painting found a stable home when Maria Altman was awarded receipt of it. She said she would honor her aunt's wishes and seek to situate it for public viewing. To this end, in 2006 she sold it to Ronald Lauder for $135 million, a record price for a painting at the time. Since then, he has maintained it on constant exhibit at his co-founded Neue Gallery in New York.
"Sara: Woman in Gold"
For me, I enjoyed touching on art roots from as far back as 1862 during this project. First I was found because of my legendary cousin. Then I became involved in understanding the provenance of Klimt's original painting. Then I experienced being the creator of a glittering abstract painted portrait, in Austrian Expressionistic style no less. Lastly, I rendered all of that understanding into a new painting for an art collector for his wife.
When "Sara: Woman in Gold" arrived to its rightful home, my
client emailed me: "Everyone who sees it says that the painting is amazing. And so do I. You did a wonderful job. Thank you again. There are so many surprises that you have put into it." Earlier when he just received the email picture of the painting, he had said that it was all that he hoped it would be.
Wouldn't it be great if I created your portrait or that of your loved one(s)? Call or email me today (!) give me your info/ideas. I'm caring and understanding and I can make a portrait for you that you will love and cherish.
Related Posts from the Portrait Painter: