Here is a mother and children oil portrait in a short video, fairy-tale style.
As you might imagine, this oil portrait of a mother and her three children has a special story. I want to tell it to you in some detail. You'll see the mother's written words (which she graciously allowed me to share):
It began with an email that she wrote me. "I've looked through your website and all of your lovely portraits and talent. I don't know how I started looking but my husband's 40th birthday is coming up and I wanted to do something special for him. I have photographed our family since my little ones were born. Now my daughter is 7 and my twin boys are 10. Very rarely have I been in any photographs alone or with them.  I thought I would like to pursue this idea of a beautiful posed but editorial-looking moment that has a classic look – not extremely modern – of my children with me for him.  I would love to speak with you about this and talk about different ideas.  It feels strange to put me in the art. Perhaps just the children are better but there really isn't much of me that exists with them.  I would love to take the second step and speak with you about this portrait." 
While we were trying to connect by phone we emailed each other a few times. She sent me many pictures to introduce me to her children. It was terrific because then we could talk about the pictures at length. She also arranged for a photographer to come over on the last Saturday before the winter cold was predicted. As she said, she was much more used to holding the camera herself. This time she would be directing someone else while the fluidity of a lively family was in play. I gave her more input as to what would be best for my beautiful, big painting of the four of them in a mother and children oil portrait.
After the shoot, she sent me the new photos. There were three different compositions, from different angles and distances. Mostly they were closeups or medium shots. However, there were a few photos of one arrangement that had more of the full bodies than the others. She agreed with me that it would be charming if it could be used.
With this new input of references, I didn't feel the need to fly to her home. There was enough to start the painting. However, we suspected that I could ask for some more pictures as I went along. I have to say it was very exciting right away. Somewhere along the way she named it and we referred to it as "The Secret" or "The Secret Kiss." As I painted, I did a photoshoot here of some body positions that I wanted to suggest and sent them to her. As soon as she could, she got these closeups done for me. We really worked together even though we were many hundreds of miles apart geographically.
Then, at last, I was able to send her an email with a photo of the finished mother and children oil portrait! LOL! That was so much fun. She called and we had another wonderful conversation about everyone seeing the digital emailed picture and zooming in to see the details.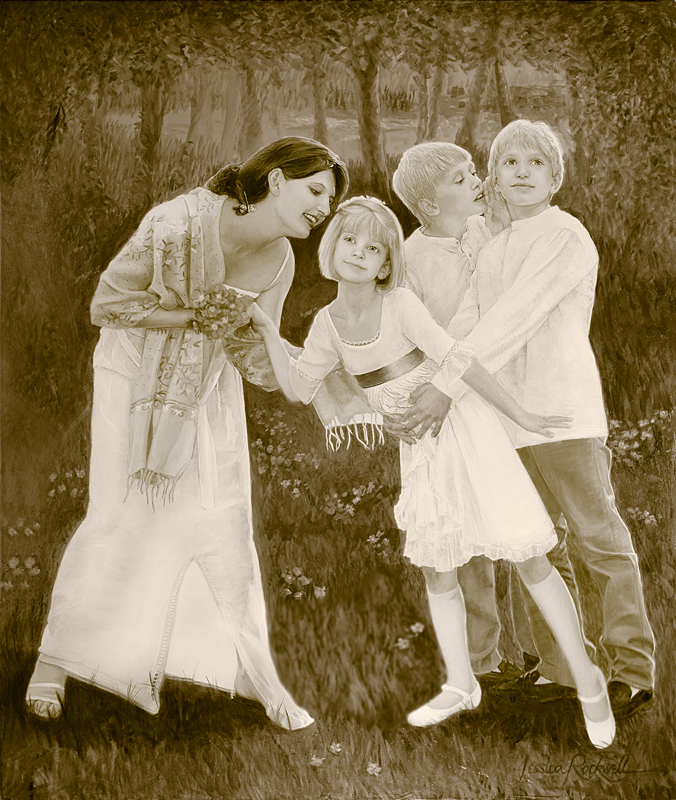 The next step was for me to receive the hand-carved gold-leafed frame that I had ordered, get the painting installed in it, and send it to her. When she received that she wrote me:
"…we had the beautiful painting covered for a while so no one person from my family could see it without us being together at the same time in the room.  We have since unveiled it and it is breathtaking. I personally have seen it hanging on our wall before everyone, but to sit with my family and stare at the detail is incredible. My husband stared, even long after the children had left the room, and said that it was absolutely gorgeous, and that you did an amazing job. I love how classic, yet to date it is. It's a beautiful painting and it really feels timeless. I agree with my husband wholeheartedly – the painting is absolutely gorgeous and you are incredibly talented and we are honored that we have this amazing piece of art in our home painted by you."
Related Posts for a Mother and Children Oil Portrait:
Mother and Child Oil Portrait
All Kinds of Daughters!
4 Children in an Oil Portrait
Family Oil Portraits
Children Oil Portraits
Teen Oil Portraits
Men & Women Oil Portraits
Is now the time to create your beautiful family heirloom?
We could create new photo references or use old favorites.