This is your portal to all of the galleries of Jessica Rockwell's realistic portraits. From here you can reach six galleries of oil portraits, one of charcoal portraits and one that shows the reference photos next to the portraits. Click on them here:
[maxalbum id="3917″]
• Photo to Painting
• Oil Portraits
         Children Oil Portraits
         Teen Oil Portraits
         Family Oil Portraits
         Oil Portraits of Men and Women
         Pet Oil Portraits
• Charcoal Portraits
• Posthumous Portraits
Growing up in a family that supported her interest to be an artist, and additionally inspired by a famous cousin, Norman Rockwell, to be an artist, Jessica Rockwell has this to say about:
Why I Make Portraits
I like to create portraits because as I add more and more paint in a systematic manner, the deep understanding and aesthetics of the subject shine through. I keep adding rightnesses, points of exact duplication, to my canvas and then all at once the portrait starts to have a life of its own and I have just entered the sphere of capturing the essence of the subject.
At this point, all who view the portrait perceive a presence because it does seem to have one. Those who know the person represented get a special lift of excitement. I've captured this spiritual quality of a moment in time—a moment which then enters a timeless realm with no beginning and no end. It just is.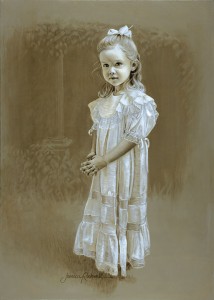 I want a person viewing my portraits to sense the spiritual aspect of my subject and then to recognize that there is more to life than just physical structure. I want viewers to look at a portrait of mine and appreciate an excitement and then feel more alive themselves because of this sensation that they just. I want my portraits to inspire people so that they feel good and beautiful and sensitive themselves. Then, feeling good, they have a better day and they make others feel better too.
I think that is the duty of artists: to help men and women to bypass their pain and their troubles by startling them with uncompromising beauty. This results in people being able to look at their surroundings with fresh eyes and make sound and sain decisions about their futures.
Isn't it a double blessing that all this can be obtained from a masterly created portrait of a person that you love?