Call Jessica directly / Email her
When one views these children oil portraits, their beauty and innocence resonate, don't they? Children are able to see a morning that has never been brighter and a world that is full of great surprises. It shows in their faces, from very young to fully in bloom as a teenager. They are ready to seize the day! Doesn't it make you feel just a little bit more alive when you view  an incredible oil portrait of a child, even if you don't know them? And if you do …
How many times have you thought to capture the young fresh essence of your son or daughter in an image that you can keep as they mature? Yes, you will take thousands of photos of your child throughout his life, and most will end up in books or boxes to be gazed at periodically. But what about a really special memory that is a piece of art hanging on your wall in  beautiful frame? A piece of art that will someday be passed down from generation to generation? Now you are talking about a timeless hand-painted portrait of your child!
Children Oil Portraits: Best Age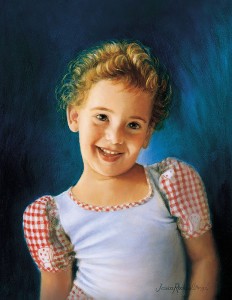 When is that innocence most irresistible? Jessica Rockwell always recommends to portrait as early as possible, at least starting at 2 years old, with the ages 3-5 being particularly appealing. However, when parents can't wait, younger portraits are priceless too, of course, as you can see in this oil portrait painting here! If your child is already 6 or 8 or 10 or 12 or 14 or 16 or 18 or 20 (…) years old, don't hesitate then either. Capture that youthful beauty in an oil portrait as fast as you can. How can you go wrong with such an exquisite memory (if you have the right artist)? Call or email Jessica Rockwell today to begin your portrait today—or at least for a free, no-obligation consultation.
To view the next gallery, click here: Teen Oil Portraits.