2291
false
false
true
false
true
true
false
auto
false
ease-in-out
300
false
0
true
false
%curr% of %total%
I have noticed that many people cannot resist smiling when they look at family oil portraits. After all, families are at the heart of our culture. We count on the love and help that parents give to their children. We appreciate the admiration and fresh outlook their children give to them. If we are lucky, we rely on the family unit for companionship, understanding and guidance as we grow up.
Family Oil Portraits Can Be the Full Family or Just the Siblings
How wonderful when we can have a substantial memento such as an oil portrait showing the individual sparkle of one family member sharing with the sparkles of the other siblings and/or parents. Whether it is a full family with mother, father, and children, or just the children representing the future of the family, family oil portraits are meaningful items.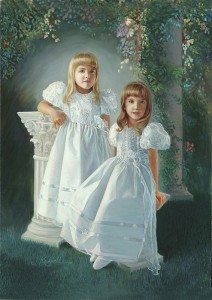 Families have told me that just having a group portrait hanging on the wall of the family home gives a constant and comforting reminder of their bonds. The fact that it is a hefty oil painting with thousands of deliberately chosen brushstrokes puts a certain perspective on the importance of the family group too. Then the aesthetics of it are usually uplifting to anyone who views it, not just to the family members but also to the broader community outside.
Not stored in a small photo album, it is enjoyed while the children are running past it through the house, and then again by parents when the children are no longer their darling little ones and then later after they have left home to make their own families. Who knows what will happen in future generations as they view their family line rendered in the art of the 21st century? Family oil portraits are just good for raising spirits in so many ways.
To view the next gallery, please click here: Oil Portraits of Men and Women