2836
false
false
true
false
true
true
false
auto
false
ease-in-out
100
false
true
false
%curr% of %total%
What men and women deserve oil portraits? How about: parents, grandparents, husbands, wives, doctors, lawyers, construction workers, tribe leaders, nurses, mechanics, teachers, electrical engineers, journalists, movie directors, even ship personnel…. We all grow up to take our places in the world. Oil portraiture celebrates us.
Motivators Behind Oil Portraits of Men and Women
One man wanted an oil portrait of himself to remind the family now and in the years to come that we came from somewhere and we belong to each other. A woman wanted a portrait of herself to celebrate her roles as mother, wife and her own special self. Looking at it reminded her family of their connection through her to each other. A man wanted a dashing oil portrait of his wife to have at his office to enjoy when he was away from her. A woman wanted a dashing oil portrait of her husband because she always thought he was so good looking and a portrait of him would be a pleasing sight for her. A company wanted to honor a man who so ably did the research and discovery of their products.
A couple might want to show their love for each other. A wife once asked me what she might expect from their portrait when it is finished and in their house. I said, when you look at it you will feel joy and peace. Years later she reminded me of that and said it was just like that. Another couple left the whole project to me and just wanted to enjoy what my viewpoint of them would look like. There was also the major university who wanted to honor a couple who donated the money for an entire building complex and had their portrait done and displayed for all to appreciate for the decades to come.
Then there are retirement presents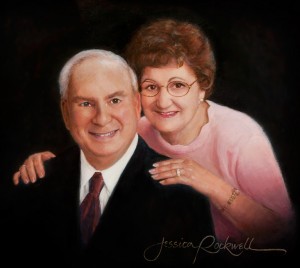 such as the one made from oil portraits honoring one's husband for the wonderful life he provided for the family, now encompassing 3 generations. Another man wanted to celebrate his 60th anniversary with a surprise portrait of the two of them for his wife.
Custom oil portraits of men and women have been enjoyed by family, friends, business associates, cities and countries for hundreds and possibly even thousands of years now. What a pleasant ambiance they lend to rooms throughout the ages.
Here are back stories about some of the portraits on this page:
Publishers' Portrait… Published
How do you surprise a public personality?
My brush with $45 Million
Custom Oil Portrait: Man and His Dog
Classic Oil Portrait for a 60th Anniversary is "Gift of a Lifetime"
To view the next gallery, please click here: Pet Oil Portraits.