2857
false
false
true
false
true
true
false
auto
false
ease-in-out
100
false
true
false
%curr% of %total%
Pet oil portraits—to remember your special friend—your dog, your cat, your horse. So beautiful, cute, cuddly, friendly, animated, peaceful, gentle, clever, impish, wonderful! The list goes on. Capture that quality forever in an artistic presentation that is fitting.
Stories Behind Some Pet Oil Portraits
Look here at Buffy in all his glory with his shining gold-plated collar. And little Pepe with his favorite toy, the pink spider. Don't tell, but his mother actually had two of these little toys just in case. Then there is Speedy and Swifty, two tiniest dogs with five big owners to choose from for their cuddles. When I went up north to photograph Dale and his golden retriever, Sunny, ran the limits of the football-field-sized yard between every photograph that I took of them, always returning to the exact spot beside his master for the next photograph—not the least bit out of breath—just happy to be next to the most important person of his life. Then Boomer with his favorite guy—his family fell so much in love with chocolate labs that they soon added two more and made a herd. Jackson and Jesse are the prized Coton de Tulears who run the household in their family. And Sundance was the most adored security force dog I have ever met. And that's just the dogs above! It's my wish that every pet has the loving households that these guys do.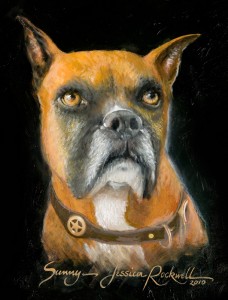 You want to give your pet some glory? Consider getting one of Ms. Rockwell's pet oil portraits. Every time you look at it, the aesthetics of seeing your friend in this time-honored way will make you happy, and proud. You have shared your treasure in art history for time immemorial. Call or email Jessica Rockwell for pet oil portraits of your dog, cat and horse … and other pets—of course! She loves them too.
To view the next gallery page, which has a couple of charcoal pet oil portraits, please click here: Charcoal Drawings.