2815
false
false
true
false
true
true
false
auto
false
ease-in-out
100
false
true
false
%curr% of %total%
Look at these teen oil portraits of great young people just chomping at the bit to get out into the world and make something of it. Each with his or her individual persona. Are you a parent watching your child grow up? Aren't the teen years beautiful? Seeing them start to look like young adults and only you can see your baby in them still?
Choices for Teen Oil Portraits
How would you imagine a portrait of your child to be? What would be the best way to portray them that would give the viewer a sense of their own particular esprit? Of course their eyes tell us a lot, don't they? The particular way they hold their head. Or their hands. The posture of their body. Does your child like to dress up or does she or he prefer to be casual? Here is an array of ball gowns, knit shirts and torn jeans.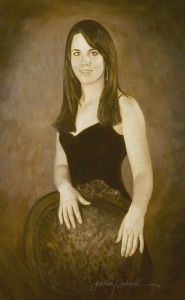 You might also notice that many parents prefer the full color oil painting and others particularly want the more abstract, perhaps more old worldly, sepia or brown and white toned paintings.
Then there is the question of, "Should I portrait 2 siblings together or in their own paintings?" I usually answer that with these types of questions:
— Do you want them to be able to inherit their own portrait and send it down their own family line? You could still hang them side by side in your home.
— Or do you just picture them together and nothing else will do? Then you could always get another double portrait later so each could inherit one.
Whatever you do, capturing that last vestige of teenage youth before they take off to create their own world is quite delightful. Teen oil portraits are fantastic memories to enjoy every day when you walk by. I like to think that they capture the aesthetics of your beautiful child.
I have written blogs about these teen oil portraits, if you would like to read about some of the anecdotes that occurred when I painted them:
— Teenage Radiance Remembered in a Custom Oil Portrait
— Youth Looks Ahead in This Commissioned Oil Portrait
To view the next gallery which includes siblings of all ages, click here: Family Oil Portraits.