2265
false
false
true
false
true
true
false
auto
false
ease-in-out
300
false
0
true
false
%curr% of %total%
[ Call Jessica directly / Email her! ]
What is the most important thing about a portrait? It's a given that it has to look like the person, of course. But one can go beyond that. Even using only the earthly materials of oil over acrylic base coats, archival canvas or hardboard, charcoal and archival paper, one can, in the realm of higher aesthetics, achieve a spiritual quality that seems to capture the very soul of the person portrayed. Here in this gallery, you can get an idea of the quality that Jessica Rockwell accomplishes.
Photo to Painting
A note is made here to explain the term "photo to painting". To make a portrait from a photo the artist looks at the photographs that she uses as references and draws her composition out onto the canvas by hand. She then paints on top of her own drawings. She doesn't paint on top of prints nor does she project them onto the canvas.
Norman Rockwell used the camera in this same way, actually looking at many references that he took of all his models and props, and assembled these drawings on one canvas that was completed before starting the painting.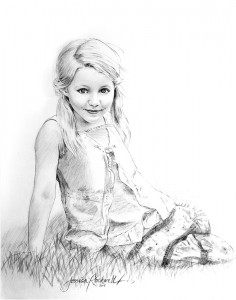 When photographing children (as well as adults, family and pets), there is flexibility in that it doesn't have to be perfect all in the same shot. For example you could have one child or more children in a good pose, photograph that, and then do closeups of the children's faces so that the expression can be the best.
Do you have the perfect photograph of yourself, your child, family or pet and want to get it memorialized for all time in an oil portrait or as a charcoal drawing? Or can you indulge in a trip to Jessica Rockwell's portrait studio for a professional photograph taken by her husband and photographer, Gerry Chromoy? We can also fly to your location to do your photoshoot. Please contact us for a free, no-obligation consultation here.
To view the oil portraits, please click here: Children Oil Portraits.
To view the charcoal portraits, please click here: Charcoal Drawings.