[youtube width="550″ height="425″]http://www.youtube.com/watch?v=IZkxtdd1ua8[/youtube]
Emmy Award-winning 5-minute documentary from FOX News.
So how did it happen that Custom Portrait Artist Jessica Rockwell received a call from Fox News to do a feature show on her painting procedure?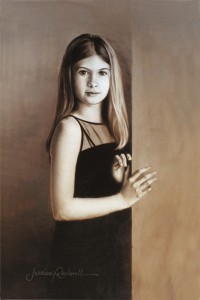 I'll tell you the backstory: They were filming in a client of mine's home and saw the portrait that I had done of her daughter on the wall. My client graciously told them about working with me. Very soon after, the news team called and asked if they could film my progression of an oil portrait being created.
I looked over my schedule of clients and chose which parents to ask if they would be game for this adventure. Initially, they would be filmed at the beginning reference photoshoot. Then at the end the FOX news team would want to capture them again when they first saw the newly painted portrait. That was an easy sell.
Then FOX team came to my house at different points of my oil painting procedure. For me, it was a whole new experience being on the other side of the camera lens from what I was used to, and being fussed over! LOL!
They also interviewed the children (the subjects in the portrait) after their photoshoot. They questioned them, such as what did think about getting their portrait done while they were young. They thought it was a good idea. Then the little boy said something like he liked to do nice things for his sister. He liked giving her things. She said he did that often and it was fine by her. Then he said, "I like to do this too" and he squeezed her and she squealed. Too bad that footage of what the children said just hit the floor of the editing room (so to speak) and was swept away.
When the portrait was done, even though I have a 99% WOW! reception from my clients, I was a little bit on pins and needles. This would be the same exciting surprise unveiling—but with the modest added dimension of being shown on national TV … !
You'll have to see the video to see what happened, but I will tell you that I slept well that night. Phew.
When we were done, it was bittersweet saying good-bye to the friends we had made. Working together we had created something of which we were all proud.
The FOX news team won 2 Emmys and an Edgar R. Murrow award for it. They told me that it was a very welcomed break from their somewhat customary hard-core assignments. Let's have more of this type of news, what do you say?
Here's another TV interview with the artist and her clients:
WEDU Films Oil Portrait Artist Jessica Rockwell
To contact the artist with any questions or for a free consultation,
please see: Contact the Artist.
Or … call her here at 727-442-5553!